Overview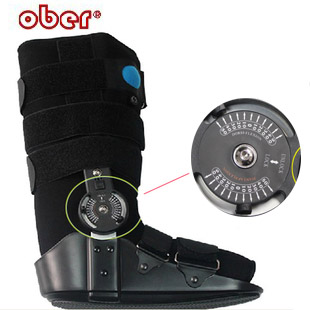 Achilles tendinitis (or Achilles tendonitis) is a strain of the Achilles tendon, which connects the calf muscles to the heel bone. Pain can be moderate or severe, but the condition is not usually serious. Of course, if you are suffering the leg and heel pain it brings, it certainly feels serious enough.
Causes
Although a specific incident of overstretching can cause an Achilles tendon disorder, these injuries typically result from a gradually progressive overload of the Achilles tendon or its attachment to bone. The cause of this chronic overload is usually a combination of factors that can put excess stress on the tendon: being overweight, having a tight calf muscle, standing or walking for a long period of time, wearing excessively stiff or flat footwear, or engaging in significant sports activity.
Symptoms
Patients with this condition typically experience pain in the region of the heel and back of the ankle. In less severe cases, patients may only experience an ache or stiffness in the Achilles region that increases with rest (typically at night or first thing in the morning) following activities which place stress on the Achilles tendon. These activities typically include walking or running excessively (especially uphill or on uneven surfaces), jumping, hopping, performing heel raises or performing calf stretches. The pain associated with this condition may also warm up with activity in the initial stages of injury. As the condition progresses, patients may experience symptoms that increase during sport or activity, affecting performance. Pain may also increase when performing a calf stretch or heel raise (i.e. rising up onto tip toes). In severe cases, patients may walk with a limp or be unable to weight bear on the affected leg. Patients with Achilles tendonitis may also experience swelling, tenderness on firmly touching the Achilles tendon, weakness and sometimes palpable thickening of the affected Achilles tendon when compared with the unaffected side.
Diagnosis
During an examination of the foot and ankle, you doctor will look for the following signs, Achilles tendon swelling or thickening. Bone spurs appearing at the lower part of the tendon at the back of the hell. Pain at the middle or lower area of the Achilles tendon. Limited range of motion of the foot and ankle, and a decreased ability to flex the foot. Your doctor may perform imaging tests, such as X-rays and MRI scans, to make a diagnosis of Achilles tendinitis. X-rays show images of the bones and can help the physician to determine if the Achilles tendon has become hardened, which indicated insertional Achilles tendinitis. MRI scans may not be necessary, but they are important guides if you are recommended to have surgical treatment. An MRI can show the severity of the damage and determine what kind of procedure would be best to address the condition.
Nonsurgical Treatment
Ask your Pharmacist for advice. 1) Your Pharmacy stocks a range of cold packs which may be applied to the area to decrease inflammation. 2) Ask your Pharmacist about a temporary heel raise or pad which can be inserted into footwear to decrease the force absorbed by the tendon when the feet land heavily on the ground. 3) Gently massaging a heat-producing liniment into the calf can help to relieve tension in the muscle which may relieve the symptoms of Achilles Tendinitis. Ask your Pharmacist to recommend the most appropriate type. 4) Gels, sprays or creams which help to reduce inflammation are available and may be applied to the injured area. Ask your Pharmacist for advice. 5) Your Pharmacist can advise you on analgesic, anti-inflammatory medications such as Aspirin which may be of assistance. Aspirin should be avoided in children under the age of 12 and those aged 12 to 15 who have a fever. 6) Strapping the ankle can help restrict movement and minimise further injury. Your Pharmacist stocks a range of athletic strapping tape and ankle guards which may assist your injury.
Surgical Treatment
As with any surgery there are risks to every procedure depending on a lot of factors, including your age, the severity of your injury and your level of health going into the procedure. It is always best to discuss all possible risks and complications with your doctor, orthopaedic specialist and/or surgeon before the procedure. It's important to be aware of the risks you may face with any procedure intended to fix or relieve pain from your Achilles tendon injury.
Prevention
While it may not be possible to prevent Achilles tendinitis, you can take measures to reduce your risk. Increase your activity level gradually. If you're just beginning an exercise regimen, start slowly and gradually increase the duration and intensity of the training. Take it easy. Avoid activities that place excessive stress on your tendons, such as hill running. If you participate in a strenuous activity, warm up first by exercising at a slower pace. If you notice pain during a particular exercise, stop and rest. Choose your shoes carefully. The shoes you wear while exercising should provide adequate cushioning for your heel and should have a firm arch support to help reduce the tension in the Achilles tendon. Replace your worn-out shoes. If your shoes are in good condition but don't support your feet, try arch supports in both shoes. Stretch daily. Take the time to stretch your calf muscles and Achilles tendon in the morning, before exercise and after exercise to maintain flexibility. This is especially important to avoid a recurrence of Achilles tendinitis. Strengthen your calf muscles. Strong calf muscles enable the calf and Achilles tendon to better handle the stresses they encounter with activity and exercise. Cross-train. Alternate high-impact activities, such as running and jumping, with low-impact activities, such as cycling and swimming.